Once again, the Humanist Alliance Philippines, International Junior (HAPI Junior) with the partnership of Brgy. Singcang Airport Sangguniang Kabataan conducted the 4th wave of "One Baybay At A Time", a coastal clean-up with an environmental talk, last Febuary 2, 2019 at Brgy. Singcang Airport, Magsungay. Even with technical challenges, the Juniors was grateful for the patience and drive of the participants, this time an estimated 60 individuals from various organizations, including people from Citizens for Better Bacolod, and a handful of student officers from Visayan Maritime Academy and many more. The number of volunteers seems to grow in heaps in every wave of this coastal clean-up.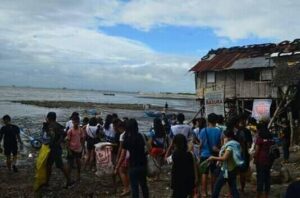 Action and Education, They Go Together
The environmental talk zeroed in on Zero Waste Living, that was tackled by Ms. Claudia Gancayco,  a role model in the Zero Waste Lifestyle.
"People always say, 'Throw it away', there is no away", her words drilled in the