April 9, 2017 6:00 AM up to 10:00 AM Cogon, Ormoc City, Leyte
2nd Humanitarian / Environmental Aid Project: The Cleanup Drive of Anilao River
A HAPI Leyte - The Union of Artists of Maharlika, International initiative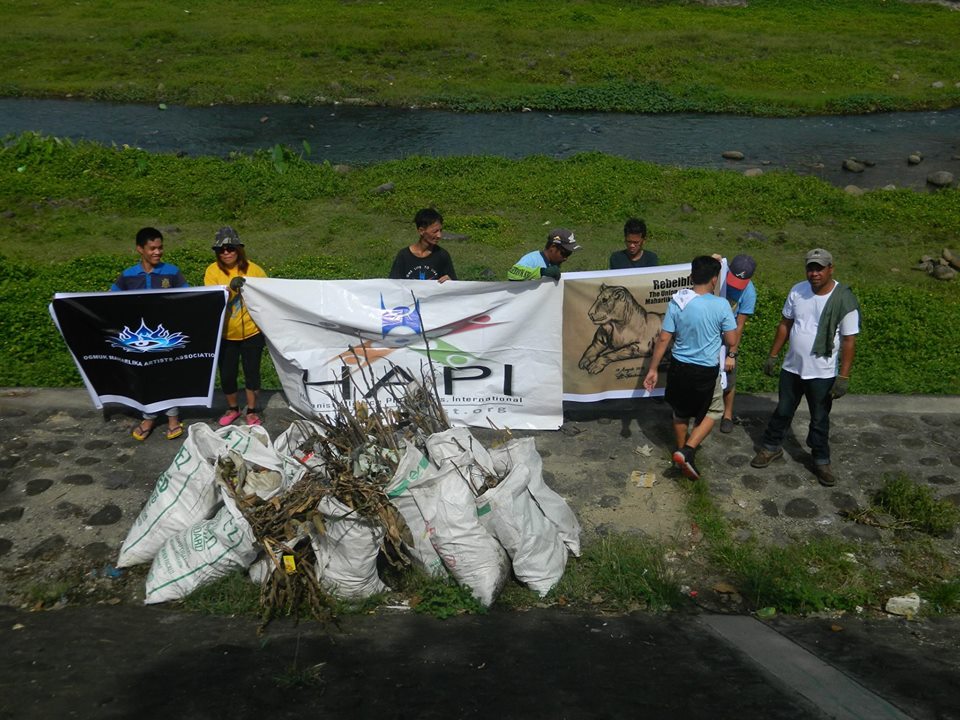 I write this in loving devotion to Rebelblood – The Union of Artists of Maharlika,International President Sir Angelo Restauro & Vice President Sir Vijay Antopina whose heroic function, efficiency, & life's devotion motivate us all to continue our noble aim, & to our advisers kuya Taloy Con-ui Noval, Sir Pocholo Aragones Franco, Sir Yoyoy Cala, Sir Jose Mosquite, Sir Celso Adolfo, & Sir Abel Oliver whose inspiring spirit & moral support have always aided us. And to express the same profound gratitude also to Humanist Alliance Philippines, International Emeritus Ma'am Marissa Torres Langseth whom I adore for sacrificing her time & life working for a greater good of humanity, & who has become a friend that I dearly love. And to HAPI Chairman Sir Marco Mendoza who is now leading HAPI with legendary level-headedness, altruism, & kindness. And to our beloved friends Sir Deo Palma & Sir Gandharva Glenn J. Biares who selflessly live their lives in the service & aid to all our fellowmen, irrespective race & affiliation, in Maharlika – a burning cause for which they & we all feel gratefully duty-bound. And of course to all living heroes of Ormoc who again help us carry out this project / aid.
On the 9th of April 2017, a Sunday morning, a small group of altruistic people, to wit: Ma'am Enriquita Andriano Barrientos, Ma'am Ashka R. Liston, Sir Angelo Restauro, Sir Vijay Antopina, Sir Saldy Ganabes Dejesica, Sir Sicsic Ruel, Sir Kevin Laurente Coronel, Sir Eduardo Nerida, one humanist HAPI member Sir Butch Yu Manson, & Sir Joel A. Corton who traveled from a far province to provide help, all endured the coldness of an early morning breeze of air at 6:00 AM, gathering together in Cogon. They enthusiastically worked hard good 4 hours straight, cleaning the environment of the huge area of Anilao River in Cogon, not minding enduring the heat of the sun as they sweat working hard picking up all horribly just thrown away garbage, feeling sad seeing the filthy area. Daunted by the sight, they rectified people's failing awareness in being conscious with our environment, & functioned the more in helping & made our environment in Anilao River, Cogon, clean again. Yet, the living heroes of Ormoc did not end the project just right there, they had so many leftovers of their snack of 10 loaves of American sandwich breads, bottles of sandwich spread, & many small packs of juice that they brought extra to the kids in small area & fed the street children who were so very happy of their thoughtfulness & good deed. 🙂
We rendered this project again in collaboration with Humanist Alliance Philippines, International, HAPI – Leyte Humanist Society, Maharlika Artists and Writers Federation (MAWF) – Leyte Chapter, Ogmuk Maharlika Artist's Association, & APO Ormoc, implementing the significance of solidarity & humanity. We have altogether been unitedly rendering humanitarian / environmental aid projects yearly since the year 2013, painting school in Naungan O. C. for the poor children, donating our blood with the Red Cross to help save our sick fellowmen, launching art exhibits to initiate recognition for our homegrown artists, mass feeding & art session at schools & at city holding for abandoned / disabled children, cleaning up the beach of Linao, etc… And we will continue to do so, hoping to reach out & help more. One life to live, ours is for a cause.
In profound gratitude, with you in solidarity.
Lucille von Hoersten
Germany
HAPI-Leyte Lead Convenor