Sherwin Dane Haro
Aug. 26, 2020
San Jose, Antique, Philippines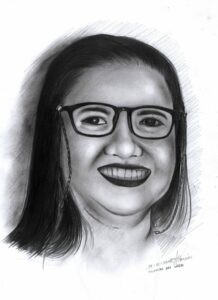 Audio version of the article. Narrated by Shane Haro.
Striking up a casual convo with HAPI Executive Secretary Filipinas del Valle, the first thing you'll probably notice is her total lack of a filter. With that rowdy attitude, loud cackle and a potty mouth that would make a sailor blush, you might not take her as one of the most proactive activists for secular humanism in the Philippines, but she is: last August, Del Valle was bestowed with the Outstanding Leader Award by the Foundation Beyond Belief during its 2020 Heart of Humanism Awards for her work empowering minorities and disaster-stricken Filipinos over the past year.
This is when the woman behind the words is truly revealed: a brave, selfless soul with an innate passion for helping the underprivileged.
Raised as the youngest of her brood, Del Valle (who also serves as HAPI Central Luzon Lead Convenor) had two interests from a young age: firstly, the grand beauty of nature. "I literally grew up outside the house," she told me in our interview. "Climbing trees, hiding in caves, or just frolicking in the nearby creek was my favorite vacation."
…And secondly, fighting for equal treatment of Indigenous Peoples (IP) in the Philippines. As a girl, Claris initially dreamed of becoming a surgeon, but her priorities quickly changed the more her family members and mentors exposed her to the injustices of the "grown-up world", including systemic discrimination against IPs and farmers.
Summer and Christmas vacations to her grandfather's homeland of Mindanao gave her an opportunity to immerse herself in the lives of tribes like the Iranun, Aeta, Lumad, Sama, Tausug, Badjao and Maranaonun, of whom many are local freelance farmers that help with yearly harvests.
The diverse experiences of these trips helped shape Del Valle's perspective of society and why minorities are oppressed the way they are. Growing up, some of her biggest mentors were Aeta and her closest friends were Mangyan, Ibaloi and Kankan-ey, which also gave her a natural affinity to these minorities' plight. Additionally, playing with the kids of farmers opened her eyes to the injustices they faced.
"I think I wa